I love to shop online. It is so effecient with both time and money. And it allows me to see so many more choices.
This is a post I wrote about where I found this vintage treasure:
Do You Know this Secret Place for Vintage Finds?
Here are my all time favorite places to shop online, these are online 'go to' places to find treasures at… love those clearance items too!
Decor Steals and Antique Farmhouse are really fun resources for vintage looking items. I love the antique reproduction rolling iron laundry basket I found there. They only sell a few items, and have limited quantities, so it's fun to frequently check them out for what's in today!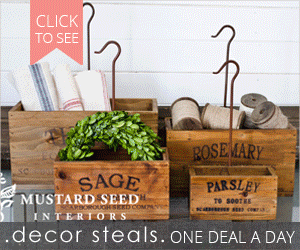 And finally…
If you're shopping for a better blog, so to speak…
I'm not much of a 'techy' person, but I gotta tell ya… ever since I finally upgraded to the Genesis Framework, I'm elated, to say the least!!
And even in my 'un-techy-ness' I can figure it out, and have loved working with it to get my site to look exactly how I want it to.
I encourage you to check the genesis framework out: (the possibilities are endless)
I also am still thrilled with BlueHost, for my host, they are so patient in helping and take the time to explain my questions on my level of understanding.
Are you starting to think about getting a little more serious about your blog? I'd recommend setting it up correctly from the get-go or as soon as you can to alleviate frustration later on.